It seems unfair but, for many people, even after the blemishes have healed their skin still bears the signs of acne. One of these signs is pimple marks caused by pigmentation issues, and they can be very distressing.

Thankfully, there are options available for lightening these pimple marks so that they are less noticeable and, sometimes, invisible. This article looks at the different measures you can try and also explains how the pimple marks come about in the first place.

To find out more about how to reduce or remove scars caused by acne, read acne scarring.
ما أسباب آثار البثور؟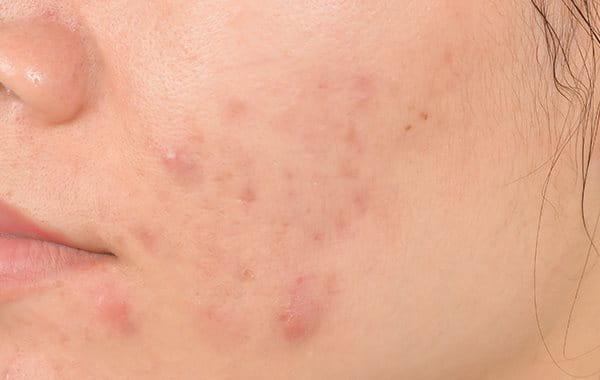 Pimple marks are causes by areas of hyperpigmentation
The red or brown marks that remain after blemishes have healed are caused by pigmentation and are known as post-inflammatory hyperpigmentation marks − post-inflammatory because they occur after the inflammation itself (the blemish) has died down.
The production of melanin, which is responsible for the colouring in our skin, is triggered by sunlight. Our skin produces melanin in order to protect itself from the sun and it is this melanin that normally causes skin's healthy glow.

When our skin tissue is injured - as is the case with the pimples of acne - an excessive amount of melanin can accumulate in one area. This surplus melanin remains after the blemish has healed and leaves its mark on the skin.

People with dark skin are normally more affected by hyperpigmentation marks than those with a lighter skin tone as skin pigmentation is stronger in dark skin.

You can find out more about what causes hyperpigmentation here.
كيف يمكنني الحد من آثار البثور او إزالتها؟
Thankfully there is a range of treatment options available that can help fade or reduce pigment marks and, in some cases, remove them completely. These include brightening or exfoliating creams that can be bought over the counter at a pharmacy. More intense treatments − such as chemical peels and laser therapy − need to be carried out by a dermatologist or a beautician who specializes in this area.
If your acne marks are bothering you, consult your doctor who will be able to give advice on the best treatment options for your skin. Here are those most commonly used:
Brightening creams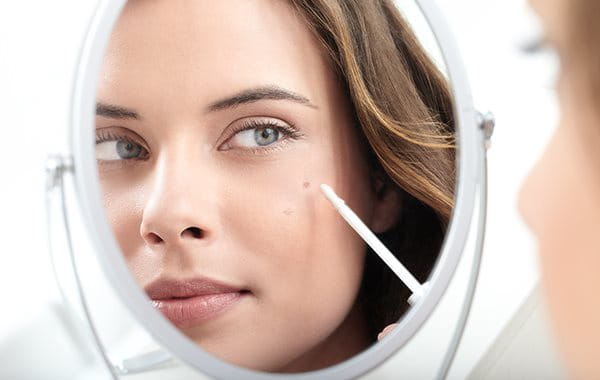 Brightening creams can help to get rid of acne marks
Once your acne has healed you can apply creams that have been specially formulated to fade acne marks. Be sure to choose products that are non-comedogenic so as not to promote a recurrence of acne.

Key actives such as B-Resourcinol, one of the active ingredients in the Eucerin EVENBRIGHTER range, reduce melanin production by inhibiting the enzyme that forms melanin. Products such as the Eucerin EVENBRIGHTER Concentrate and the Eucerin EVENBRIGHTER Spot Corrector have been clinically and dermatologically proven to reduce the appearance of dark spots for visibly brighter skin.
Peelings
Exfoliating treatments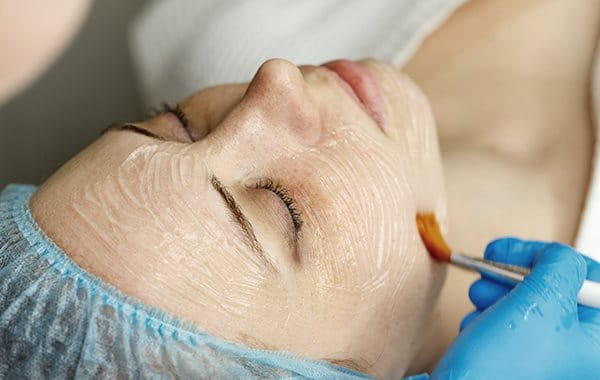 Peels remove the outermost layers of skin
The innovative Eucerin Dermo Pure Skin Renewal Treatment has been specially formulated to reduce the appearance of pimples, papules and pustules as well as to fade acne marks. With a 10% Hydroxy Complex, it contains a highly effective combination of peeling agents − Glycolic Acid, Salicylic Acid and Polyhydroxy Acid – which help to resurface skin and promote skin regeneration.
Chemical peels
Chemical peels use acids such as Salicylic Acid and Tricholoroacetic Acid (TCA) in varying concentrations to remove the outermost layers of the skin, taking the melanocytes and pimple marks with them. As the skin regenerates itself, there is a good chance that the pigment marks won't reform.

Fruit acid peels are chemical peels using concentrated fruit acids. Fruit acid peels aren't suitable for people with Rosacea, reddened areas of skin or enlarged blood vessels as the treatment can exacerbate symptoms.

N.B. Skin can be very sensitive after a chemical and/or fruit acid peel, so it's important you avoid direct sunlight (and solariums) and apply a high sun protection factor such as Eucerin Sun Gel-Creme Oil Control Dry Touch SPF 50+.
Laser and light therapy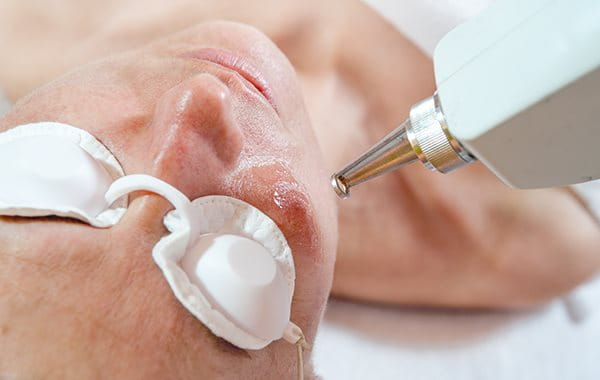 Expensive and not without their problems: laser treatment for pimple marks
Pimple marks causes by acne can also be treated with laser or light therapy.

Different light strengths, waves and pulses are used to heat up and damage pigment cells (the medical term for this is photothermolysis). The body breaks down the residues and pigment marks made.

The disadvantage of these therapies is that the laser can cause mild skin damage. In unfortunate cases, this can lead to inflammation, which in turn brings with it an increase in post-inflammatory hyperpigmentation – the opposite of the desired result.