As its name suggests, post-inflammatory hyperpigmentation occurs following skin injury or inflammation when skin is left darkened and discoloured after the wound has healed. This article looks at how post-inflammatory pigmentation affects skin's appearance and what causes it. We also identify steps you can take to help reduce the appearance of dark patches on your skin.
Post-inflammatory hyperpigmentation (also known as PIH and hyperpigmentation caused by inflammation) is a type of hyperpigmentation that can affect the face and body. It appears as flat spots of discolouration. These range in color from pink to red, brown or black, depending on skin tone and the depth of discolouration.

Men and women are equally susceptible, and all skin types can get post-inflammatory hyperpigmentation although it is more prevalent in darker tones of skin. In fact, PIH is one of the most common reasons why people with darker skins seek the advice of a dermatologist.1
The root cause of PiH is increased melanin production. Melanin is the pigment that defines the color of a person's skin and the increase in melanin is triggered by the way skin heals after inflammation or injury.
1- Postinflammatory hyperpigmentation: a review of the epidemiology, clinical features, and treatment options in skin of color. E.C. Davis and V.D. Callender. J Clin Aesthet Dermatol. 2010 Jul; 3(7): 20-31/em>
Attention
Post-inflammatory hyperpigmentation is harmless but melanoma can be life-threatening. If you have any concerns about your pigment spots – if they change shape, size and color or if they become itchy and start to bleed – it's important that you consult your doctor.
If your skin is injured or blemish-prone, or if you suffer from skin conditions such as Atopic Dermatitis or Psoriasis, it's important that you take care of your skin in order to reduce the chances of post-inflammatory hyperpigmentation.
Appropriate medication and/or a regular skincare routine using products that have been specially formulated to address your skin's needs will help:
Post-inflammatory hyperpigmentation does not cause
scarring
and, even with no treatment, it will improve over time. Recovery rates vary from person to person: the timing depends on the difference in skin tone between the natural skin tone and the darkened patches – the more significant the difference, the longer it will take for the tones to rebalance.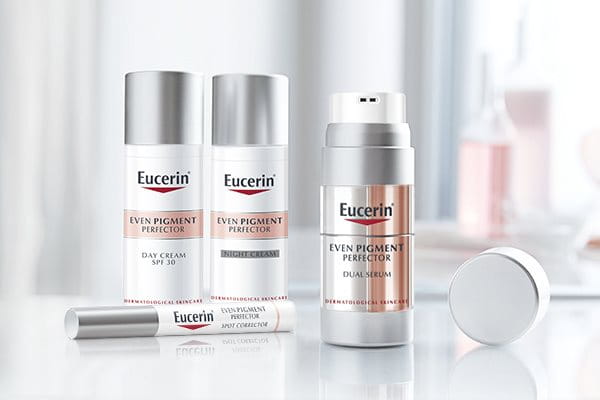 Eucerin Even Pigment Perfector products can help to extend the results of dermatological treatments
Dermatologists may also prescribe and/or use hydroquinone which is still regarded as the most effective topical agent for reducing hyperpigmentation. It can, however, only be used for limited periods of time because, like other forms of chemical peel and laser treatment, it can irritate skin and actually cause post-inflammatory hyperpigmentation, especially in people with darker skin.
Dermo-cosmetic skincare products can be used daily to help extend the results of dermatological treatments.
The Eucerin Even Pigment Perfector range contains Thiamidol, an effective and patented ingredient that acts at the root cause of hyperpigmentation by reducing melanin production. It has been clinically and dermatologically proven to reduce dark spots and prevent their re-appearance.